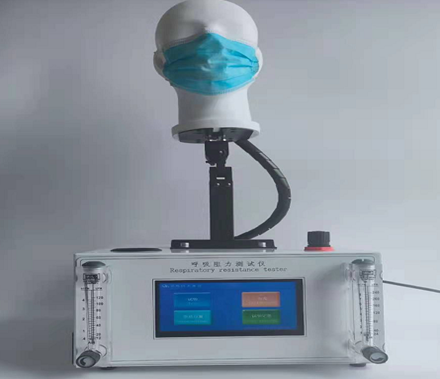 The breath resistance tester of color screen of European mask helps to help the world fight against epidemic
The global epidemic situation is changing constantly, and the constant variation of virus brings new difficulties to the work of anti epidemic. The masks meeting the standards are still the important barrier to prevent the virus. The bad quality masks will bring irreparable consequences to users. The quality test of respirator respiratory resistance is an important part.
The hp-khz-e respiratory resistance tester, which meets the BS en149 European standard, is introduced by JinanHengpin to measure the suction resistance and expiratory resistance of respirator and respirator protective equipment under the specified conditions.
Hp-khz-e European standard breath resistance tester product characteristics: standard head mold, five directions can be rotated to test, simulate the real human body inspiratory breath, meet the European standard; Touch screen control, menu operation, easy operation; It can meet European standard and national standard, and the Chinese and English operation menu can be switched; The unit can be selected, PA and mbar switch freely; The micro manometer sensor has high precision and good stability; The explosion-proof design is safe and reliable; The special air circuit conversion element is adopted to ensure the convenience and fast conversion of two sets of pipeline systems, namely exhalation and suction; It has a micro printer, which is convenient for printing test results on site quickly; The instrument consists of air source which can adjust flow, body head mold specified in the standard, two sets of pipeline system of suction and exhalation, and a respiratory resistance measurement system; Two modes of breath detection and inspiratory detection can be set.
Hp-khz-e European standard breath resistance tester is suitable for export product testing, which meets the European Standard BS en149 European standard, and also meets the related inspection and inspection of common masks, dust masks, medical masks and haze mask products by domestic labor protection equipment inspection institutions and mask manufacturers (gb/t 32610-2016, GB 2626).
Main technical parameters of hp-khz-e respiratory resistance tester: the breath is adjustable from 0 to 220l/min (160l/min is used in European standard); The inhalation can be adjusted from 0-120 l/min (European standard, 30l/min, 95 l/min).
Color touch screen [operation interface]